A GIFT YOU WILL BE REMEMBERED BY
NISHA PERSONALIZIRANI POKLON PAKET
Ne znaš što pokloniti prijateljici, mami ili kolegici za rođendan?
Odaberi Nisha PERSONALIZIRANI POKLON PAKET i oduševi ih ovim posebnim poklonom uz koji će svakodnevno rasti i ostvarivati svoje snove i ciljeve.
Products you love the most
Znaš li da redovitim zapisivanjem imaš 42 posto veću vjerojatnost da ostvariš svoje ciljeve. Zapisivanje nam pomaže da živimo svjesnije, ispunjenije i zadovoljnije
Po čemu su posebni
U Nishi vjerujemo u transformativnu i terapijsku moć svakodnevnog zapisivanja i pisanja. Želimo da ti trenutak zapisivanja i planiranja bude poseban, trenutak u danu kojeg posvećuješ samo sebi i svojim ciljevima i snovima. Jedinstveni i profinjeni dizajn, čini svaki Nisha proizvod bezvremenskim poklonom, sebi ili dragoj osobi. Svi naši proizvodi izrađeni su od recikliranog ili ekološki prihvatljivog papira i ekološki prihvatljivih materijala.
U svakom paketu dobivaš i posebnu personaliziranu poruku i mali poklon iznenađenja, jer si nam bitna i jer zaslužuješ.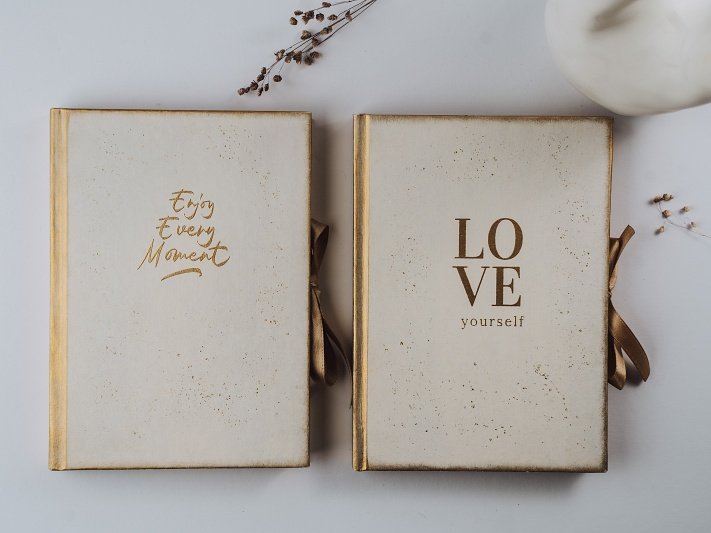 Zabilježi svoje najdragocjenije trenutke i misli u poseban Nisha dnevnik, izrađen od 100% recikliranog papira.
Ekskluzivni personalizirani poklon paket, poklon je kojim daruješ ljubav, pažnju i poseban doživljaj. Dozvoli sebi da tvoja životna priča raste, da tvoji ciljevi i vizije rastu i procvjetaju, jer stvorena si da rasteš, cvjetaš i uživaš u divnom procesu postojanja.
Jednostavnog su i profinjenog dizajna i planiranje je uz njih jednostavno i zabavno. Uz inspiracijske poruke, na poleđini svake kartice nalazi se tjedni planer i metalni mini stalak zlatne boje.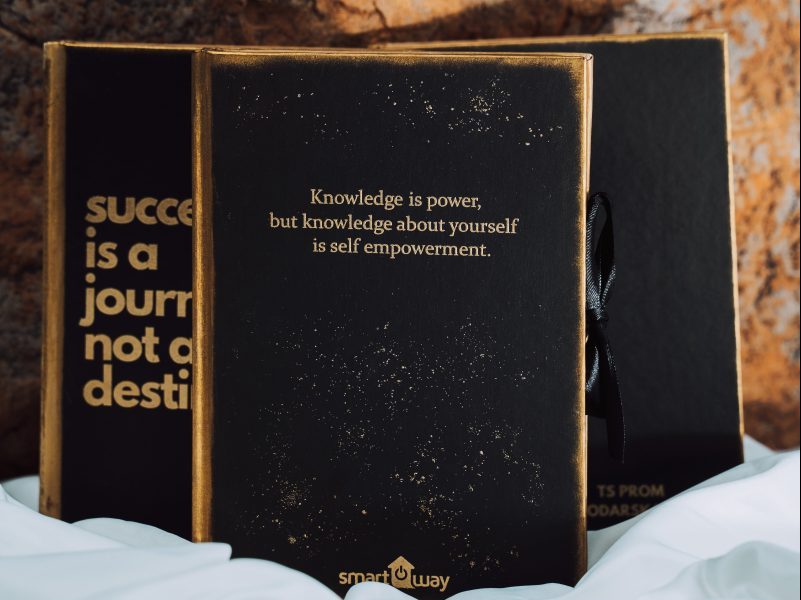 Tražite poseban poklon koji će ostaviti snažan dojam na vaše poslovne partnere? Želite da se vaši klijenti i suradnici osjećaju posebno? Poklonite im ručno rađeni personalizirani notes s logom i darujte im poklon s dozom osobnosti.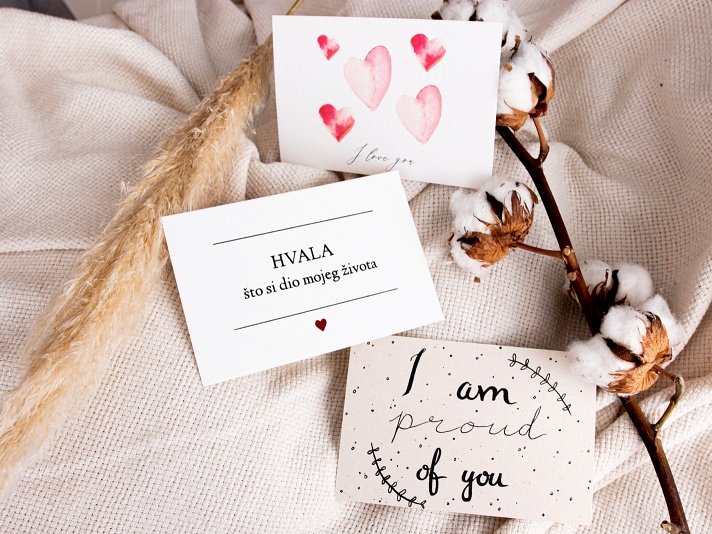 Nisha čestitke prepoznatljivog su jednostavnog i modernog dizajna, s posebnim porukama iz srca, otisnute na najfinijem ekološki prihvatljivom papiru.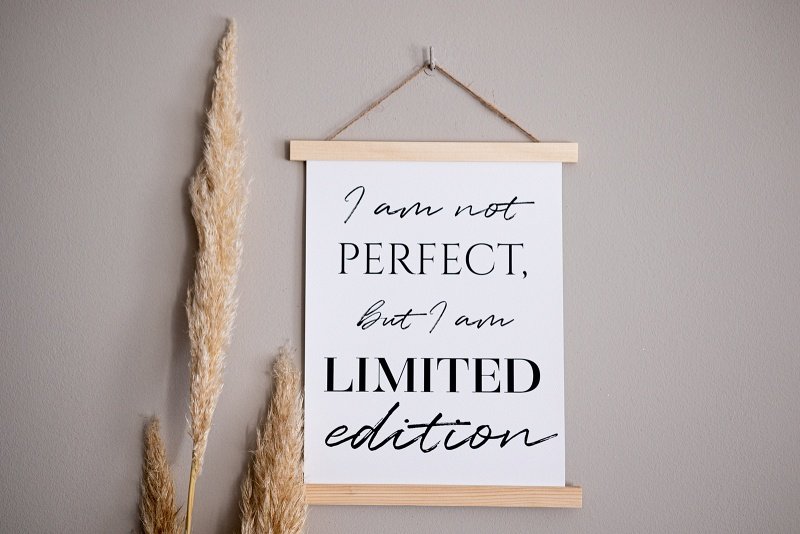 Inspirirani pozitivnim mislima, ljepotom ženskog bića, ostvarenjem ciljeva i snova, ovi plakati oplemenit će i uljepšati vaš životni ili radni prostor.
Printani su na visoko kvalitetnom, 100% ekološki prihvatljivom mat papiru s ručno rađenim drvenim nosačima.
Personalizirani rokovnik
Znaš li da možeš sudjelovati u dizajnu rokovnika? Korice rokovnika možeš personalizirati i to: odabirom boje, citata ili ilustracije, dodati ime ili inicijale i tako ga personalizirati za sebe ili dragu ti osobu. Kreiraj poklon baš onakav kakav želiš i daruj baš nešto svoje, poseban poklon kojim pokazuješ koliko ti je stalo i koliko ti je osoba važna.
About us
 Nisha – mali brend s velikom vizijom.
A personalized gift
Učinit ćemo tvoje posebne prilike još posebnijim. Pokloni personalizirani poklon, jer mali detalji čine veliku razliku.
Made of 100% recycled paper
Pri izradi pazimo na svaki detalj i na kvalitetu materijala i papira: Svaki rokovnik i planer izrađen je od 100% recikliranog papira i ekološki prihvatljivih materijala, a naši plakati i čestitke otisnuti su na ekološko prihvatljivom papiru.
Packaging
Ne moraš brinuti o zamatanju poklona, jer svaki Nisha poklon šaljemo lijepo upakiran i već spreman za darivanje. U svakom paketu dobivaš i čestitku Nisha dizajna na poklon i posebnu personaliziranu poruku.
YOUR OPINION IS IMPORTANT TO US
What customers say about us
Dear you, that is reading my review. Please don't hesitate between any other artist: Sanja notebooks are the ones that you need! When I unwrapped the notebook paper and had the first touch on the cover, I was in love. Everything was carefully thought and created. The paper has the perfect thickness, texture and softness, the cover is a work of art, everything connects and it's just perfect. You can feel the LOVE and attention to details that Sanja has put on the creation. It was my first bought but definitely not my last. Thank you so much for your work, dear Sanja 🤍
Draga Sanja,
Hvala Vam na predivnom dnevniku, ali osim samog dnevnika, htjela sam Vam zahvaliti na divnom dogovoru oko personaliziranog dnevnika, a zatim i na cijelom pakiranju i omotu u kojem je stigao: sam omot s mašnom, personalizirana zahvala i poruke koje su bile baš kao da ste znali da ih treba čuti novopečena mama.
Radujem se pisanju avantura moje male djevojčice. Hvala od srca!
Hello dear Sanja, I received the notebook and I am delighted, so much love can be felt in that cover. It is beautiful, of course I immediately showed it to my sister and she wants it.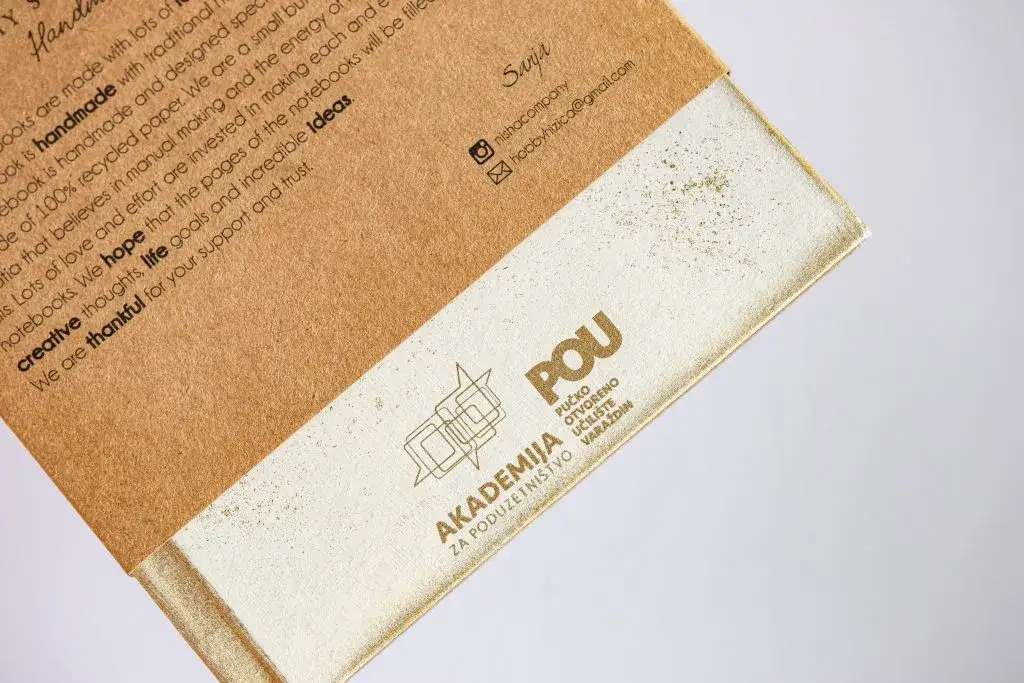 Personaliziran notes, izrađen po vašim željama Brend Nisha za vas može izraditi ručno rađene, unikatne i personalizirane notese, s logom i vizualom...
read more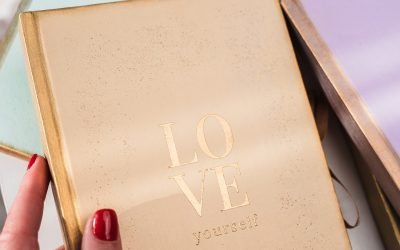 Izazovi su sastavni dio života. Neki kažu da su nam izazovi dani da bi osvijestili svoju snagu, neki su mišljenja da se loše stvari događaju...
read more